Lets get lost.
Lost in me teasing your cock with my sensually hypnotic voice.
Leaving you unsure if you want to cum or continue the phone sex edging that we have entered into.
Granted we never wanted to end up in this place where your balls were aching but the fact that I have complete control over your cock with my voice has got you spun up into a whole new experience.
Yes take my orgasm Savannah.
No please let me continue edging for you Savannah.
Mind completely spinning over the intoxicating effects of being edged.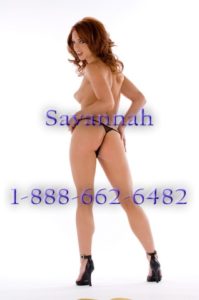 In the end your just left submitting that I have complete control of your cock and orgasm.
Did it really matter how it happened?
I think not.
All that matters is that I have complete control of your cock. Better yet your orgasm. So lets have some fun with an orgasm phone sex edging session that will leave you utterly breathless.
Actually I wont leave you that breathless for I do want you to be able to still say my name in between those moans of pleasure and delight and maybe a touch of sexual frustration.
You can begin your orgasm phone sex edging session by calling 1-888-662-6482 just ask for Savannah.
Dont worry if your not up for an orgasm edging session then we can just start out with simple tease and denial fantasy. For I do adore those as well.
Tease you very soon, Savannah
Once again 1-888-662-6482 is how you reach me.