Now I had thought of writing about some level of orgasm denial but then I realized a few things. Mainly you dont deserve that level of fun today. No you do not deserve to touch your pathetic excuse for a cock and really I have no time to sit here and listen to you moan while you palm your self into near orgasmic excitement. Well you and I both know your orgasm would come in 2.2 seconds and well boring. So I have opted for something far more appeasing for myself some chastity phone sex!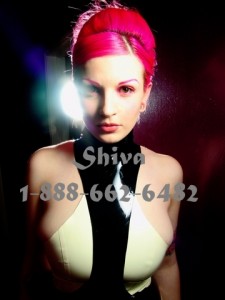 Yes it has been some time since a submissive came crawling on his knees telling me that he had his cock caged up for me. Hell I would settle for him to say his cock had been caged for a few hours thought days is what truly excites this busty femdom. What can I say your suffering has always excited me to my very cold, cruel core.
So here I sit with my fishnet cladded legs crossed and my patent leather platform black heel bouncing up and down in the air wondering where o where are the chastity slaves?
I know you must be out there for you always seem to complain you are not worthy of any form of personal pleasure. Now I say slap a cock cage on your self and lets see just how long you can deny yourself any personal pleasure. Go without touching that cock. Allow it to swell up with in that cold metal cage. Or plastic if you so happen to have grabbed that one.
Call me for some chastity phone sex punishment lets discuss how long I will keep you locked up. What you need to do to get released from your locked cock cage. How you can impress me.
You know the important details in your chastity slave life. 1-888-662-6482 ask for Shiva.