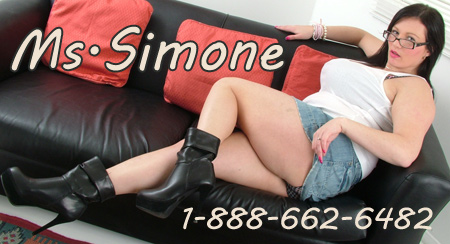 I am Mistress Simone and you will serve me, slave. On your knees, head down, ass up. This is where you belong and you know it. You long to serve at the mercy of a BBW Goddess like myself. To earn the privilege to worship my magnificent ass and my bodacious breasts. You tell me you will do anything to please me, but we both know you have some limits. Share them with me. Limits are meant to be broken aren't they? Tell me how you long to serve and how you will please me. It is all about my pleasure and your pleasure only cums when I am pleased. It's not my job to tend to your every need, it's your place as my slave to participate in your debasement and your discipline.
I have simple rules for those who call me for BBW Mistress Phone Sex. I expect you will be shaved smooth and in panties. Your cock and balls belong to me and I decide if and when you stroke or jerk off. You only cum with my permission and I do not grant that easily. You'll have to earn your cums. Orgasm denial and cock control belong to me without question. If you're married we will discuss other options, I don't believe in denying your wife, just you.
We will play with bondage and sensory deprivation (blindfolds are easiest on the phone). You will service every inch of my body starting at my toes. You will learn to crawl behind me with your nose up my ass crack. I love CBT, cock and ball torture, and a firm believer in a good hard spanking as punishment. I can be Sadistic and/or sensual depending on my mood and my partner. I will train you to crave my sweet cream pie and you will beg to bend over for my strap-on. And believe it or not, this is just the beginning of your service to me, Mistress Simone.
For BBW Mistress Phone Sex, call Ms Simone at 1-888-662-6482
SensualBBWSimone