Awwww! What an adorable adult baby baby! You're so sweet with your pretty bonnet and your frilly onesie. And your diaper has duckies and bunnies on it! How cute!! Let mommy Gretchen take care of you, sweet baby boy! We can have adult baby phone sex and talk about all the things I'll be doing to take care of my new baby boy. Mommies like me have lots of responsibilities, but taking care of a baby can be very rewarding.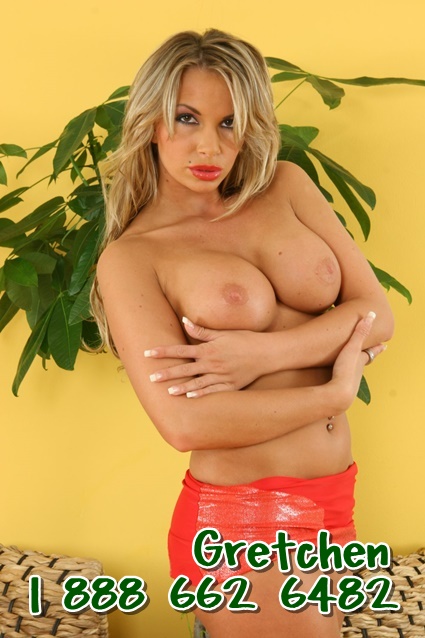 Did you drop your pacifier? Let me get that for you…..there you go, sweet pea.
Yes, it's my job to keep baby happy and healthy. I change your diapers, give you baths – lots of baby powder to keep baby fresh and clean – and feed you from these magnificent baby bottle breasts of mine. I'll play games with you, make funny faces and sounds at you, tickle you, and sing songs to you.
Wheels on the bus go round and round, round and round, round and round….
When it's nap time I'll put you in your crib and turn on your musical puppy dog mobile, and at night when it's bedtime, call me for adult baby phone sex and I'll sing to you again while the lamp projects stars across the ceiling over your crib. When you need to be burped, I'll hold you and pat your back, and when you're running a fever, I'll use a rectal thermometer on your ass to see what baby's temperature is.
What a good boy! A sweet boy! Look at you! Coochie coochie coo!!
It looks like baby needs a di-dee change. Stinky poos!! Some fresh, clean wipes, some powder, and a new di-dee will take care of that. Then maybe some time with me in the rocking chair, nursing while we rock back and forth, back and forth. When you need love and care, you know you can count on me and when you need adult baby phone sex, I am the one to call!
Gooood boy!!! Smooch!!
Call 1 888 662 6482 and ask for Gretchen for adult baby phone sex!
AIM: MILF_Gretchen
Twitter: @MILFGretchen
Tumblr: milfgretchen