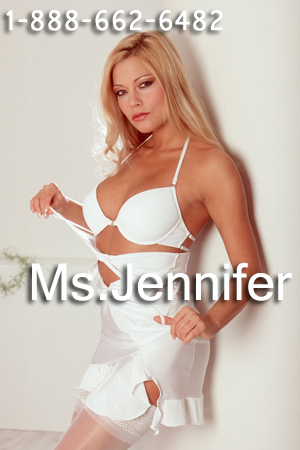 Hey guys, I'm Jennifer and I love bdsm phone sex and bdsm in my real life too! I know I get questions all the time about what bdsm stands for – Bondage and Discipline or Dominance. Sadistic and masochistic. submissive or slave and Master or Mistress. Those are the most common descriptions of what BDSM is. Beyond that there are so many variations that it becomes unique to each person and each relationship how they define bdsm for them.
I am definitely more into the physical aspects of bdsm phone sex; If you're into bondage and have rope I have lots of kinky and creative ideas to have you bind yourself and still feel helpless and at my mercy. I'm a big fan of predicament bondage too. We don't even need to do full body bondage, just tying your cock and balls or ankles together can put you in the right mind space. I want you to experience the physical sensations as I guide your mind with my wicked imagination and your props.
I have been told on more than occasion that I can be quite Sadistic and I laugh, because, of course I am! My pleasure comes from your screams and moans and your desperate pleas for mercy. I will paddle or cane your ass until it's raw and you'll remember me for days every time you sit down. A few household items like duct tape, plastic wrap, clothespins, candles will make the masochist in you cry in pain and pleasure at the same time. You'll be amazed that you can achieve sub-space on our call. (Just be sure to book enough time if this is your goal, getting to subspace does not happen in 10 minutes) I know what I'm doing and I know how to get you there if you're willing and open.
When you call me for BDSM phone sex, please have an idea of what you desire, what you need, what you fantasize about if you want us to have the best call ever. I negotiate with submissives, slaves, bottoms in my real life and I do the same on the phone. When you're ready, call 1-888-662-6482 and ask for Ms Jennifer.
AIM or yahoo – FetishGoddessJennifer